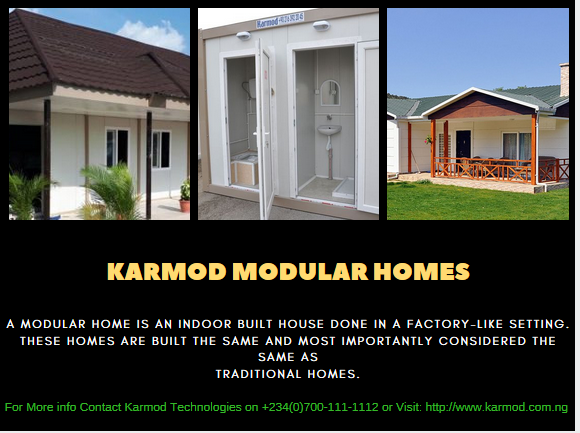 The ever growing influence of Modular houses as a result of its reputation for strength,efficiency and durability has become a great deal in building construction industry.
Traditional and modular housing are both rated in the same international building codes.However, the durability of housing constructions has become a concern of most people which resulted to the question of the lifespan of modular homes.
There are many fantastic modular homes that were built in different parts of the world year's back, with every feature as traditional homes yet are still very much in good
shape.
The truth is Karmod Modular Homes does not have a shelf-life and you may be astonished by how sturdy and durable they are! They are built to last for a long period of time.
Before we go in-depth about how long Karmod Modular homes last, let's quickly look at what a modular home is and the cause for its durability.
Modular homes defined
A modular home is an indoor built house done in a factory-like setting. These homes are built the same and most importantly considered the same as traditional homes.
Modular homes are not mobile, rather they are built off-site to be transported to their permanent locations after finishing. They are mostly called system-built, factory built or prefab homes.
Karmod Modular home last long since the construction materials are kept in-doors
with no exposure to nature/weather related cases like mud, mildew or sun exposure.
This concept helps to promote the lifespan of the materials.
In that case;
HOW LONG DOES A MODULAR HOME LAST?
Modular homes can last as long as or even longer than a standard traditional houses. They are premium quality homes built to an international standard.
Karmod Modular houses have the capacity to compete with traditional homes in all ramifications ranging from structure to design and otherwise.
In some cases, the quality of modular homes is even better than traditional built homes. These buildings are strongly constructed to last for a long period of time. The durability is second to none, this is no brainer.
It might interest you to know that Modular homes in general are constructed in a weather-controlled factory-setting. In other words, all the processes involved in buildingevery single thing pertaining to these homes are of course subjected under intensepremium quality check.
Compared to Modular constructed homes, a traditional home is overly built from the ground upon which the building will sit but what happens when the foundation is faulty?
What happens when a traditional home builder fail to ensure that all the lumber used in the building construction are well protected from some elements such as weather conditions and other phenomenon?
Be rest assured that in the nearest future, the building will definitely be faced with loads of issues.
Karmod Modular homes are produced under strict quality control process during production, using CE or ISO certified materials in order to maintain high quality, Our well trained and experienced team will make sure during assembling every step will be done 100% and most importantly, they are laid upon a sturdy and
permanent foundation.
The fact about these Modular homes is that they appreciate and of course gain value just like the on-site built/traditional homes.
Most of the modular homes that were constructed about decades ago are still very much intact and have really appreciated in greatly in value.
Our professional advice is that, you should consider a Modular home when you set out to finding your most admired home.
With Karmod Modular homes, your family will enjoy a great value of your home now and many years ahead.
We're at you service; should you come with your own design, if not, you have nothing to worry. Our team is on standby to provide you with the best and most trending building design you can think of.
Cheers!!!