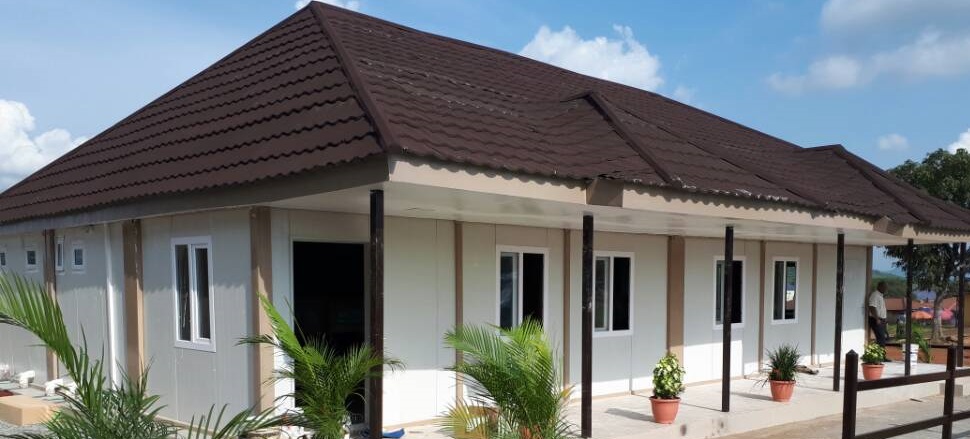 Karmod Nigeria Ltd, Nigeria's leading brand in prefabricated shelter solution has successfully deployed its mobile containerized solution for the construction of a world-class passport collection and data capturing center for citizens and foreigners at the Nigeria Immigration Service headquarters, Sauka, Abuja.
The prefab construction project which consists of six individual units on 3x7M steel cabins was jointed together to create 126 sqm work station which was later sub divided into offices, server room, rest rooms & waiting area. The entire unit was transported in a single truck and was assembled onsite at the Immigration Headquarters, Sauka, Abuja. The project commenced on the 4th of July 2017 and was completed in a record time of twenty-one days.
The project was also delivered to the client at a very reasonable cost compared to concrete block building of similar structural design, durability and size.
According to the General Manager Karmod Nigeria, Mr. Fehim Ozkanca, the jointed container structure is about 126sqm and is made up of 5 offices, 4 Restrooms, 72 seater capacity waiting area for citizens awaiting their documents and 70sqm beautifully landscaped exterior which gives the building a beautiful and eco-friendly ambience.
Speaking on the durability and eco-friendliness of prefab structures, Mr. Fehim added that
"… This jointed container that we just completed for the Nigerian Immigration Service has a lifespan of over 100 years and compares favorably against any type of concrete structures anywhere in the world. It is also built with eco-friendly materials to make it environmentally sustainable."
The building is expected to be commissioned soon by the Nigeria Immigration Service.