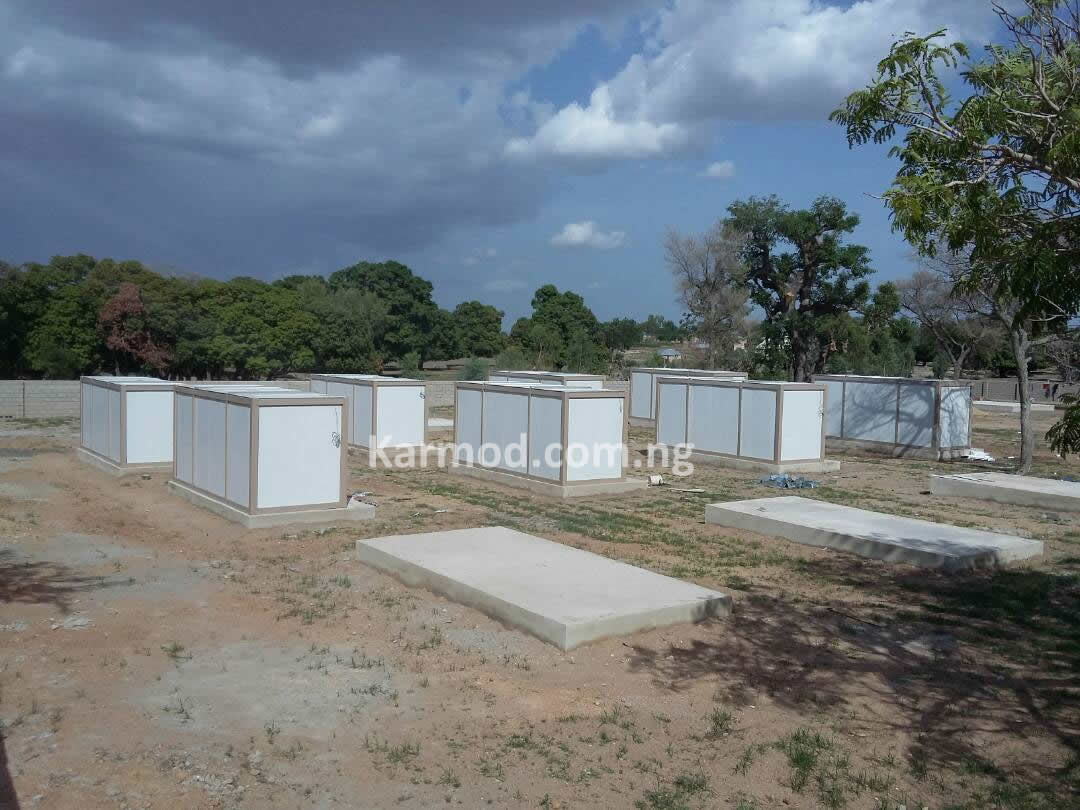 Karmod Nigeria, the leading prefab building provider in Africa has completed over 100 police transit camp prefabricated building structures in 7 states in Nigeria for the Nigerian Police Force. The benefiting states include Abia, Bauchi, Plateau, Katsina, Kaduna, Anambra and Rivers state.
Each of these world-class, fully furnished Police Transit Camps are made of fourteen (14) completely detached flat pack containers which are to serve as residential buildings for the accommodation of both senior and junior officers of the force.
There are also two (2) jointed flat pack containers which are to serve as the cafeteria in each transit camp as well as two (2) 3×7 jointed containers were the occupants will use as toilet and bathrooms.
Within the camp also will be one (1) massive 68 square meter police station within which there will be a 36 square meter holding cell for law offenders.
In addition, there is a 150×215 polyester cabin for security checks at the entrance gate leading into the transit camps
The use of flat-pack containers for the construction of these transit camps by the Nigerian police was chosen because of its enormous advantages which include; reduced overall cost of construction (for example, 8 flat pack containers can be shipped in one 40 ft HC container thus reducing transport costs), no welding technology, quick to assemble thereby reducing project timeline by more than 70% compared to concrete structure building.
More benefits of the 3×7 containers include; sandwich panel on the roof and walls, automotive technology for painting and galvanized steel structure in order to prevent rusting, up to 125 mm roof thickness for better insulation – which is very important for hot environments like Nigeria.
These fully furnished structures in each state are designed to house 50 police officers.
Karmod management targets to finalize the whole project within 2 months.
To see photos of these completed Police Transit Camp structures, visit the Police Transit Camp project page.