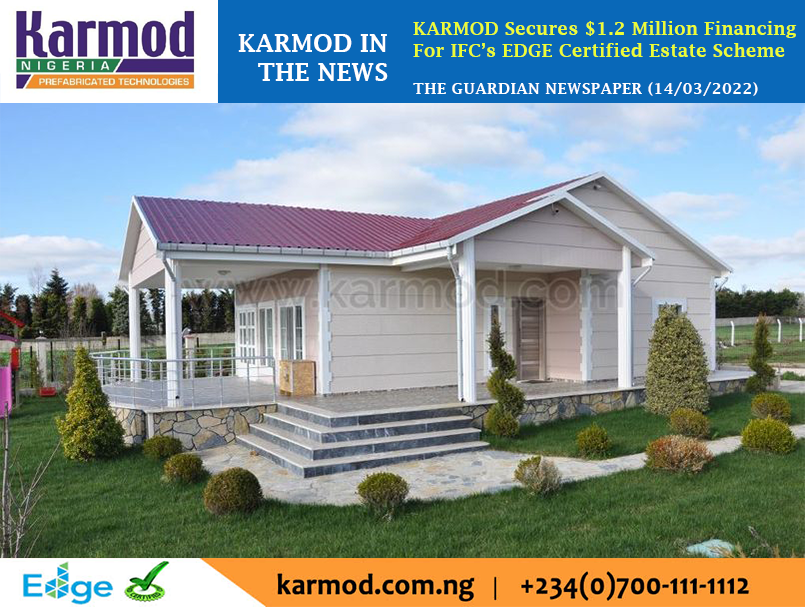 An innovative building construction company and champion of prefabricated green homes, KARMOD, has secured a $1.2 million home financing facility for its Abacus One housing estate in Nigeria's capital city Abuja.
The facility from Sterling Bank Plc will bankroll Abacus One, which is a 90-unit housing estate on 13,567.19 square meters of land in Kuje.
The project received International Finance Corporation's (IFC) EDGE advanced certification for achieving 40 per cent less energy usage than the local standard.
The $1.2million financing covers the expansion of Abacus One Estate and delivery of affordable residential green buildings with low carbon footprint.
The funds will enable KARMOD to deliver sustainable environmentally friendly quick- to-build homes with turn over production capacity of minimum of 500 homes in a quadrimester.
In his reaction to the development, the Managing Director/Chief Executive Officer, KARMOD Nigeria, Mr. Hakeem Shagaya, said the sustainable building features of Abacus One were a key point of consideration by Sterling Bank Plc in the course of the financing transaction process.
"Sterling Bank Plc was impressed with the sustainability profile of the Abacus One project. They looked at our EDGE Advanced Certification, which guarantees 40 per cent less energy, water and embodied energy in materials usage.
"They also considered our inclusion of the renewable energy mix, and the fact that all the external lighting would be solar powered with solar panels on the back-end of the roof, each house fitted with a small battery bank, and the use of energy-efficient light bulbs, motion sensor controls to serve energy," according to Shagaya.
He was pleased with Sterling Bank Plc readiness to finance more environmentally friendly sustainable housing projects. He noted that this aligns with the global efforts to mitigate the adverse effects of climate change and forge a carbon-neutral housing industry in Nigeria.
He said access to affordable housing financing for real estate developers is key to accelerating the drive towards a climate-smart real estate industry.
He, therefore, advised multinational housing finance institutions and other local commercial banks to emulate Sterling Bank's lead in prioritising green housing project financing as a more sustainable path to affordable housing delivery.
"Nigeria cannot continue to build houses using same methodologies and style. Our innovative, environmentally friendly and quick-to-build homes will help cushion the housing shortage." Shagaya added.
Abacus One is a mixed sustainable living community that comprises 36-units of two-bedroom apartment buildings, 14 and eight units of two-bedroom and three-bedroom semi-detached bungalows, respectively and five units of three-bedroom detached bungalows. The prices range from N9.7 million for the two-bedroom apartments to N15 million for the three-bedroom detached bungalows.
Culled from THE GUARDIAN NEWSPAPER (14/03/2022)