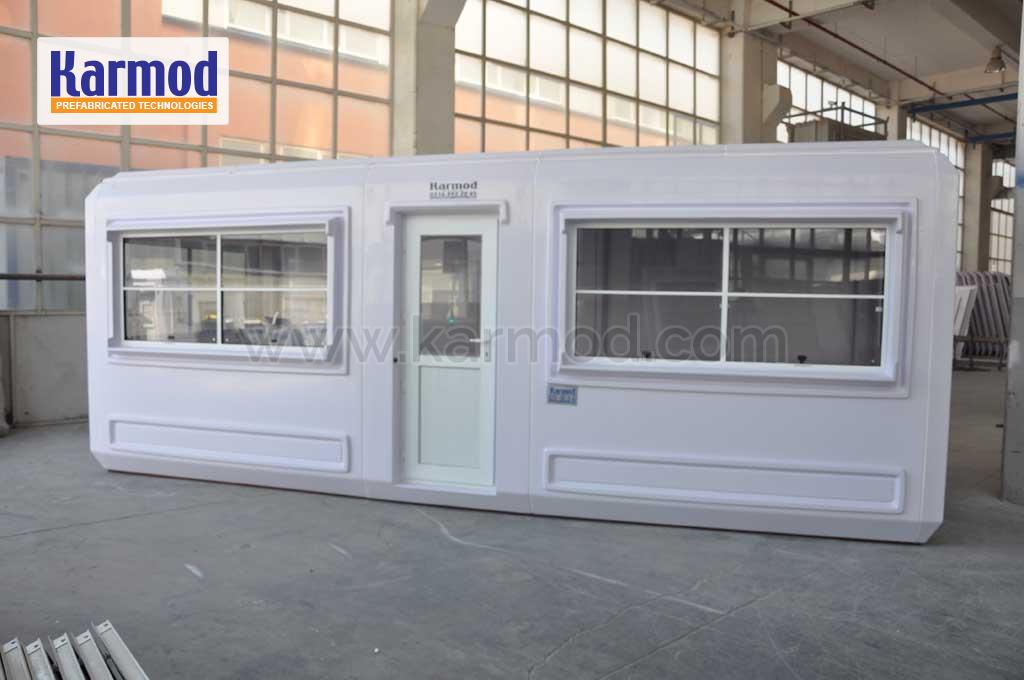 Karmod Nigeria produces premium portable cabins (portacabins), prefab buildings and modular containers of different shapes and sizes.
Our portable cabins can be fused to form an office area that can be divided by partitioning walls into different functional areas. Karmod portacabins can be erected up to an average 3 storey-structure with stairs, walking path and end roof system added to the building. You can equally have a lasting solution that can be perfectly used as staff camp, dormitory and offices amongst others.
We ensure that all portacabins are produced under ISO standards and most of the items we use in our products are ISO and/or CE certified products. This is why our structures are guaranteed to have a lifespan of at least 20 years.
One of the most important reasons why our clients use our service is because of the turnaround time of less than a month to complete a project. For example, one of our latest projects for Nigerian Immigration Service which was a 126 sqm building was completed within 21 days.
We manufacture to international standards at affordable prices.
Our mission is focused on providing high quality prefabricated cabins, prefab homes, offices and steel container buildings to our clients all over Nigeria.
Karmod portable cabins (portacabins) in Nigeria can satisfy you needs such as;
Mobile shop
Mobile office building
Mobile toilet cabin
Mobile Clinic building
Staff accommodation
Portable telecom shelters
Temporary construction site accommodation
Modular Hospital facilities
Prefab bungalows
Our services are not limited to the aforementioned. Karmod Nigeria also offers other services such as quick-built accommodation and bigger non-transportable prefab buildings.
Our prefabricated houses and buildings services can be ideal for:
Prefabricated factories
Prefab warehouses
Prefab school and classrooms
Prefab hostels
Prefab office complex
Prefabricated shopping mall
Are you in Nigeria? Are you looking for a quality prefabricated home, prefab building, or premium portable cabin producer, then hit us up.
Make your choice from our standard models available on our website or send us your own design and plan and let Karmod  Nigeria access it and get back to you.