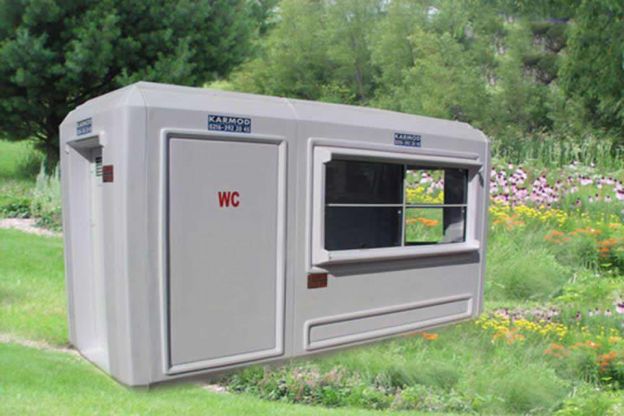 Karmod Prefabricated Technologies is the undisputed leader and the world's biggest producer of polyester modular cabins having developed its own production line with over 500 products manufactured every month.
The isophthalic production technology that Karmod has set up over its 30 years of experience allows full usage of raw materials and equal density in the production of polyester cabins.
In this post, we shall highlight some of the top 10 features that have set Karmod polyester cabin
Karmod Polyester cabin has washable, anticorrosive, and rustproof features: The Outer and inner surface is well galvanized with the use of ultraviolet radiation resistant, polyester-based, isophthalic acrylic based special gelcoat. In other words this will save you the stress of spending all your time doing repainting.
Karmod Polyester Cabins has electrical installation system: This comprises of automated fuse, socket key, first class cable system and CE certified armature lightning products.
Inside of the Polyester cabin is supplied with electrical system ready inside and the outside connection end is left open – there you have a connector.
Karmod Polyester cabin use 4 mm thickness tempered glass: Because your safety is inclusive in our planning, we use tempered glass to protect you in the cabin against any odd object that might crash into the window or elsewhere.
Karmod Polyester cabin is timely and cost effective:You can have your cabin set-up within a week. We have all the necessary requirement to start your cabin construction upon your request. Not only that, our Polyester cabin is cost effective; you don't have think so much about the cost because with Karmod, you will enjoy both quality and cabin for reasonable prices compared to industry standards.
All you need to do is to call us, tell us what you want and you'll have your cabin ready in no time.
Karmod Polyester cabin has a high insulation Polyurethane foam: This Polyurethane foam is injected inside wall panels so as to attain maximum thermal and sound insulation. This feature also makes Karmod polyester cabins perfect to live in.
Double glazing windows and doors: Aluminium frames are used at Polyester cabin window and door systems. Glazing is 5 mm thick, tempered auto glazing. Opening system is sliding, from bottom to the top.
Karmod Polyester cabins are durable: Our polyester cabin has a 20 year life span. We even give a guarantee on this claim
You are free to choose any colour for your Polyester Cabin:Panels manufactured for Polyester Cabins, are off white colour. As a result of request from client, we can use different colour. However, we make use of high quality paint, CE certified product to be precise.
Karmod Polyester Cabin can be used for a variety of purposes:
Polyester Cabins are generally used as Guard cabin, Security cabin, small store Cabin, WC and Shower Cabinet, Modular Cabin and Portable Cabin and many more.
Superior quality: our mission is to provide our clients with high quality and standard cabins and world class after sales service. For that reason, we don't settle for anything less than the best quality. All our products are ISO certified.
Talk to us about your needs and receive the best service from the best in the prefabricated technology industry.
Karmod polyester cabins are currently in use of more than 98 countries all over the world including USA, Germany, France, Spain, UK. So why don't you join our high scale client list.
For more details on Prefab container homes contact Karmod Technologies on +234(0)700-111-1112, Email: sales@karmod.com.ng