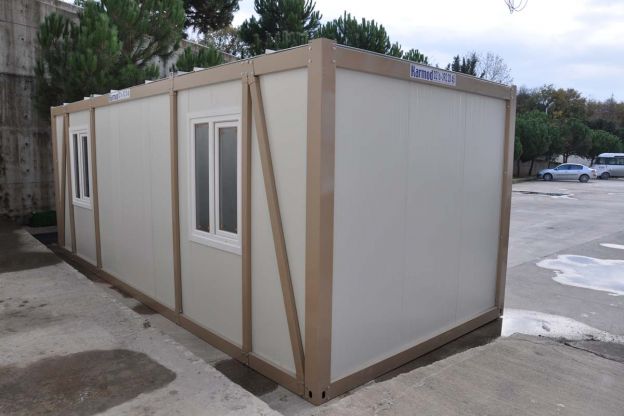 If you can't find a house you want to buy, you may be tempted to build your home yourself. In that case, you'll need to choose between a block house and a prefab container home. Block house-built means your home is built the old-fashioned way, with a crew of workers on site for months raising the home and fitting it with plumbing and electricity. A prefab container home, on the other hand, comes in pre-built parts.
Energy Efficiency and Long Lasting:
One of the benefits of prefab container homes is that they tend to be highly energy efficient. Their tight seams and state-of-the-art windows keep heat in and reduce your energy bills in the process. Karmod Nigeria technologies prefab homes have earned a reputation for having a guaranteed lifespan of 20 years.
Fast Construction:
Fast construction is one of the big advantages of Karmod prefab container homes. Because the parts of home come pre-made. All you have to do is assemble them and hook up the home to the needed utilities. For example, the construction of Nigeria Immigration Service passport office took Karmod Nigeria just 21 days to accomplish.
The prefab goes up much faster because it arrives partially constructed. That means fewer days with laborers on site and less vulnerability to weather delays and illnesses that can extend the construction process by days and weeks. Still, there's more to consider than just the construction time. Site preparation, including obtaining permits, can be a lengthy process.
Superior Quality:
We also choose only ISO and CE certified materials when it comes to siding, roofing, trim, windows, doors and all the other important materials that complete your new Container home.
Bottom Line
The cost of prefab container homes vary depending on how much you're willing to do yourself and how much you outsource to others.
Karmod Nigeria is focused on delivering eco-friendly prefab building solutions to meet the ever growing housing needs in Nigeria and sub-Saharan Africa.
Karmod steel containers are currently in use of more than 98 countries all over the world including USA, Germany, France, Spain, and UK. So why don't you join our high scale client list.
For more details on Prefab container homes contact Karmod Technologies on +234(0)700-111-1112,Email: sales@karmod.com.ng or visit: www.karmod.com.ng/